Presents
GRAND CHAMPION
RIVERREED CUPIDS ARROW
MAC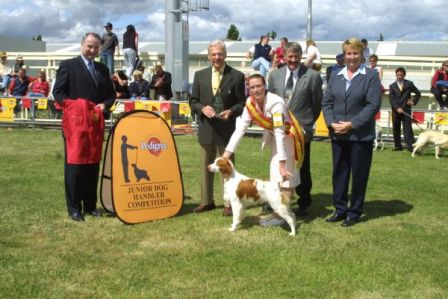 Mac and Kim winning junior handlers in Hobart 2004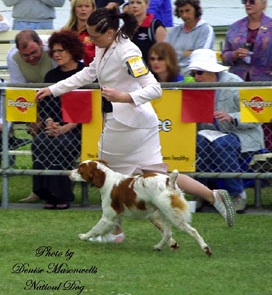 Achievements
Riverreed's first Grandchampion
Mac left Melbourne at 8 weeks old to live with the Ward family (Wameika Brittanys) in Queensland.
His very first show resulted in baby in show, from there he enjoyed many wins, Mac is a multi class in group,class in show winner.
Best of breed awardes at Queensland,Tasmainia,Toowooba Royal shows.
He is also a working gundog spending many hours in the field hunting with Ian.
Mac and Kimberly made a fantastic team in the junior handler ring, enjoying some fabulous wins.
Pedigree National handlers final in Hobart 2005
Best junior handler
sending Kimberly off to England to represent Australia in handlers competition at the prestigious Crufts Dog Show.
Big Congratulations
Mac and Kim
Pedigree

Parents
GrandParents
GreatGrandParents
SIRE

CH. CAZRO GOODNYT UP ALL NIGHT

CH. LIKREN DANCING BRAVE

TOBENLEE THE HIELANDER
TOBENLEE BET IMMAGIC
CH.GOODNITE SOPHIE
AM.CH. JORDEAN YOUR WILDEST DREAMS
AM.CH.JORDEAN GOODNIGHT LOUISE

DAM

CH.RIVERREED THE LAST TANGO

CH. LIKREN JORDEAN COWBOY
AM CH JORDEAN YOUR WILDEST DREAMS
AM.CH.JORDEAN GOONNIGHT LOUISE
RIVERREED RAMBLIN ROSE
CH. WAIMANUKURI MARINOAHI. CD.
CH.TOBENLEE PIPING HOT
Beautiful examples of the breed in Mac's pedigree
Aus Grand champion

Riverreed Cupids Arrow

Mac 8 months old

Owned ,loved and campaigned by

Wameika Brittany's

Riverreed Ramblin Rose

Aus CH Riverreed Parris Francs

Aus Ch Waimanukuri Marinoahi

Aus Ch Likren Jordean Cowboy (IID)

Owned,loved and Campaigned Riverreed Brittanys

Cody is a runner up in group multi class in group

Best of Breed

Melbourne

Adelaide, Sydney, Queensland,Toowoomba,Royals

now living the life of luxury with Julie and Richard
---