---
NEWS
news
2022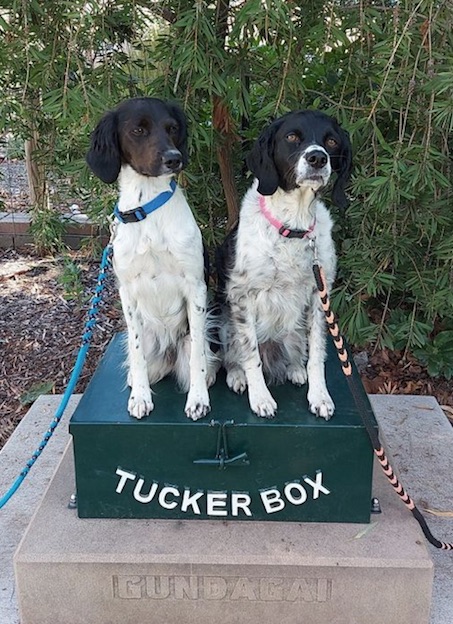 Wow we have done it again.
DC (Obedience)
Riverreed She A Sensation RA.HTMI.
The only Brittany ever to attain This title in Australia.
Huge thank you to Cynthia for all you dedication and training and campaigning Ellie. Cynthia is devoted to the breed we are very lucky to have her campaigning our Brittany's.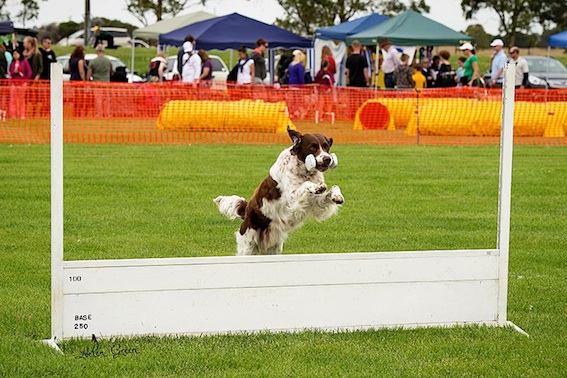 ---
AUS Dual CH (Tracking) Riverreed Frozen Impact
(Kiefer)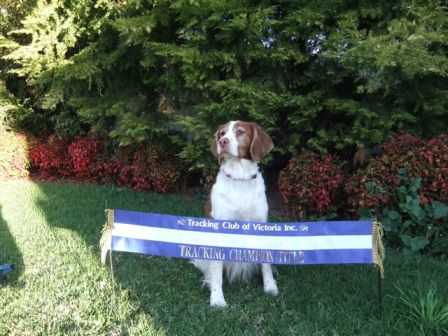 Also trained to perfection by Cynthia our second Dual Champion
---
Cynthia is now campaigning CH Riverreed Eliots Ice Queen CCD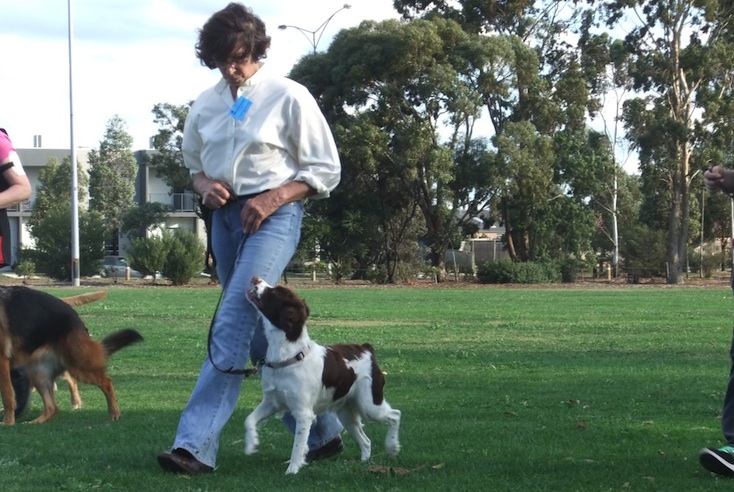 ---
Another first for the breed and Riverreed Brittany's
The first Australian Brittany ever to go back to France
Swiss show CH Riverreeed Black Magic
The only Brittany ever to go back to France and and pass judges inspection to be included into the French stud book. Sierra passed her tan and was shown there with multiple gradings of excellence. That is not all this very talented girl achieved, she became a group winner and attained her Swiss Show Championship We are so proud of her . Huge thank you to Coralie for giving Sierra the opportunity to achieve this mile stone. Sierra has just whelped a litter of two babies in France we look forward to watching them grow and follow in their mothers footsteps.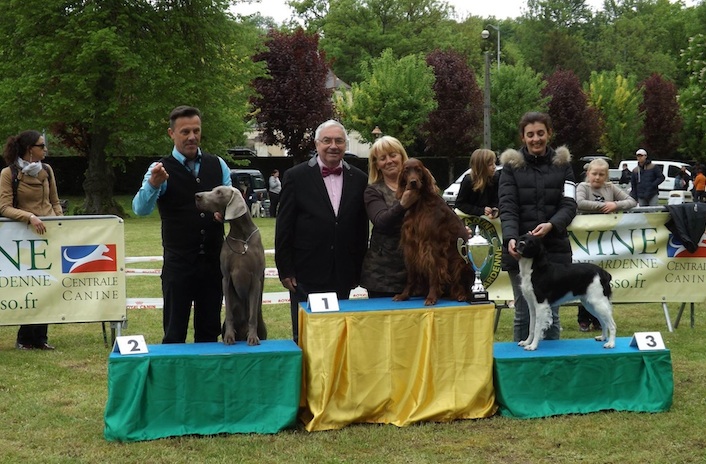 Coralie and Sierra winning a group 3 in France with a grading of excellent.
May 2016 winning best in group in Spain,with another grading of excellent.
Wishing beautiful Sierra and Coralie many more wins in Europe.
Way to go girls wishing you the best of luck at your next show in qualifying for Crufts
Marilyn and Cynthia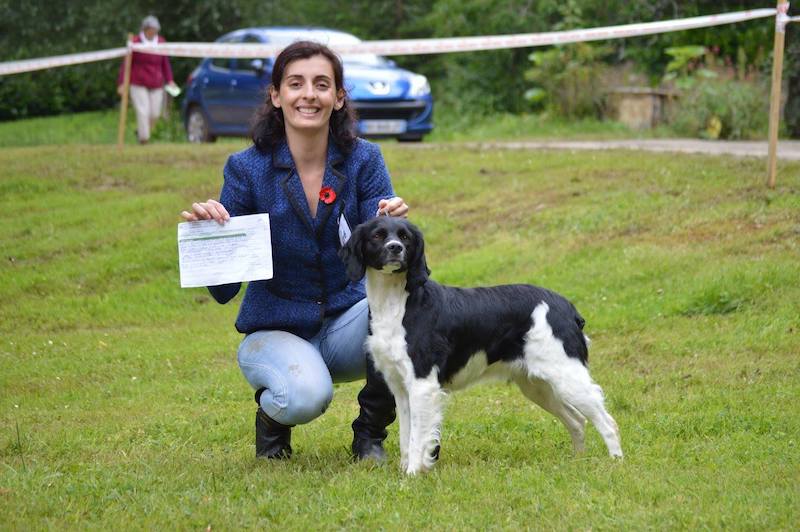 ---
Adorable baby Bosco Bosco and his dad Mathew in the field
---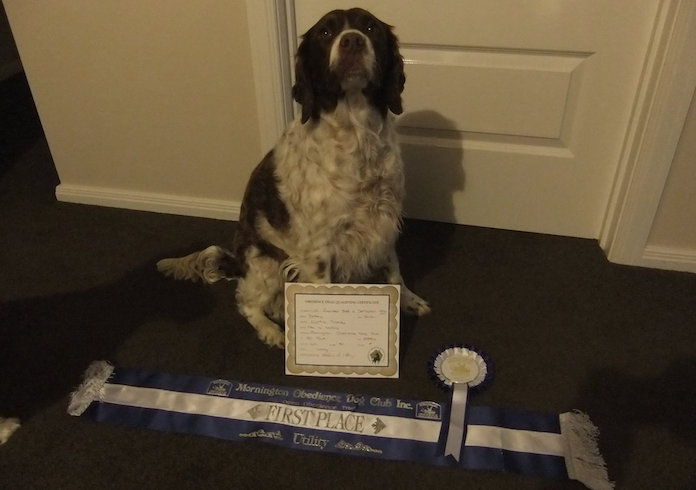 AUS CH Riverreed Shez A Sensation HTMS. CCD. CDX. UD.
Huge Congratulations to Cynthia and Ellie on gaining their UD title
This award is very special as Ellie is the second Brittany in Australia to achieve this success in the obedience ring
Thank you very much Cynthia for your dedication, training we are so proud of all your achievements.
Obedience trainer extraordinar
The first Brittany to receive this success (Dee Dee) was also trained by Cynthia.
---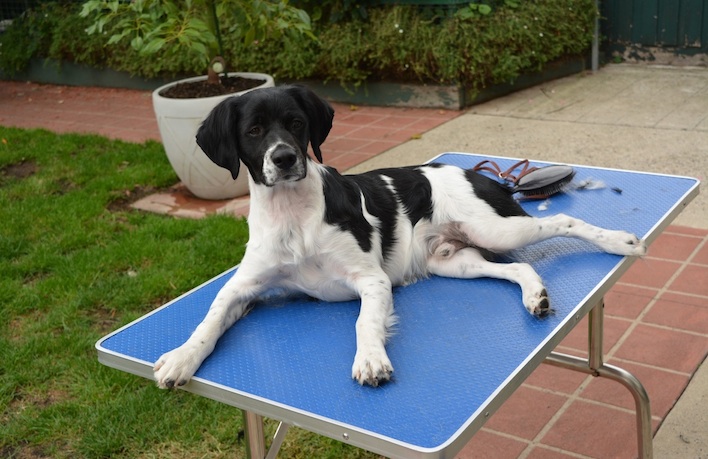 Riverreed Super Trooper
(Trooper)
Show pointed
First grooming for the show ring
Owned and adored by Natalie and Paul
---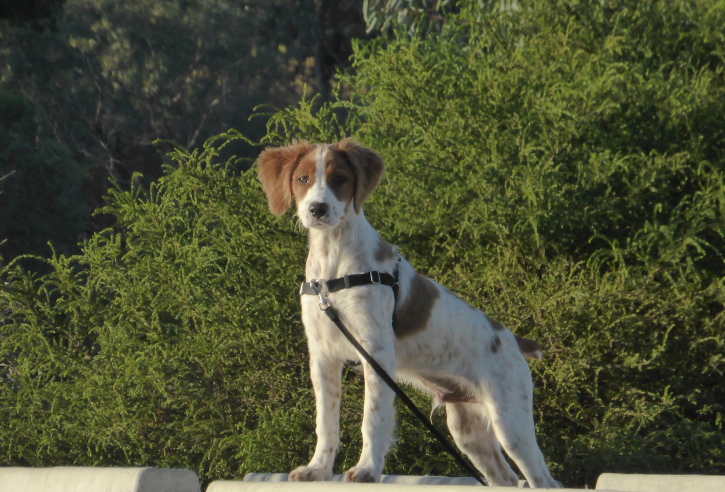 Riverreed The Jokers Wild
(Ledger)
Ledger is going to show home in Adelaide
He is adored by his new mom Marls
Watch out for him in the show ring
---
Ground breaking news
France 2015
The first Australian bred Brittany to achieve this awesome success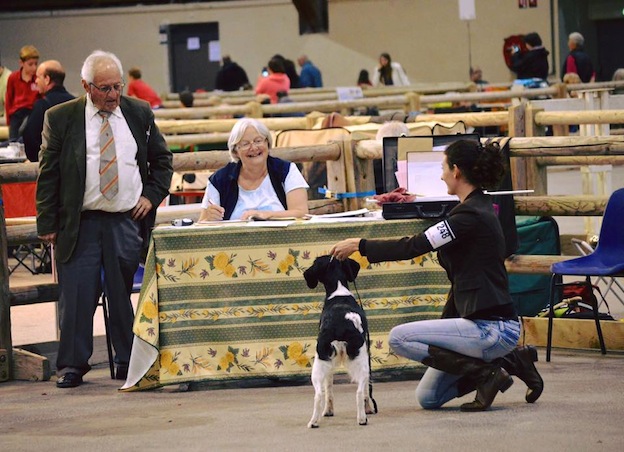 Riverreed Black Magic
(Sierra)
We are so proud of Coralie and Sierra
Sierra went to France with Coralie, were Sierra was admitted into the French stud book, a month later
she gained her Tan (working field test) last weekend was shown at her first show took out best bitch and opposite sex.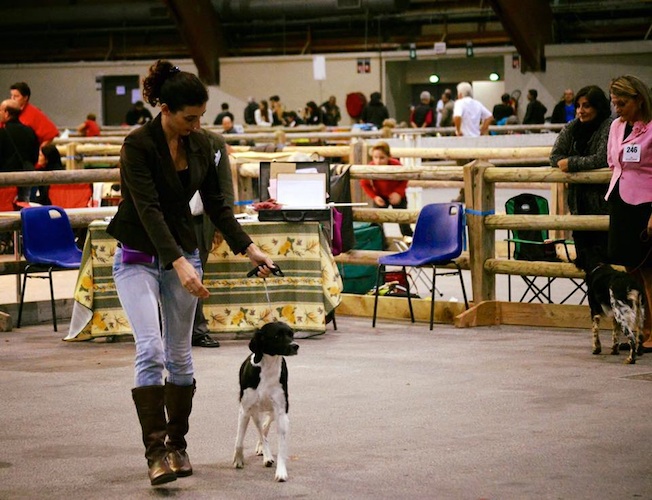 Sierra in the French show ring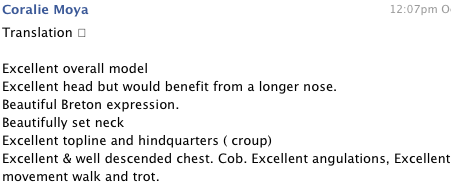 WOW what a critique
Huge thank you to Coralie and Sierra what an achievment

---
New Import
Epagnuel Breton
The French Brittany
Guinness de Wyngold
(Guinness)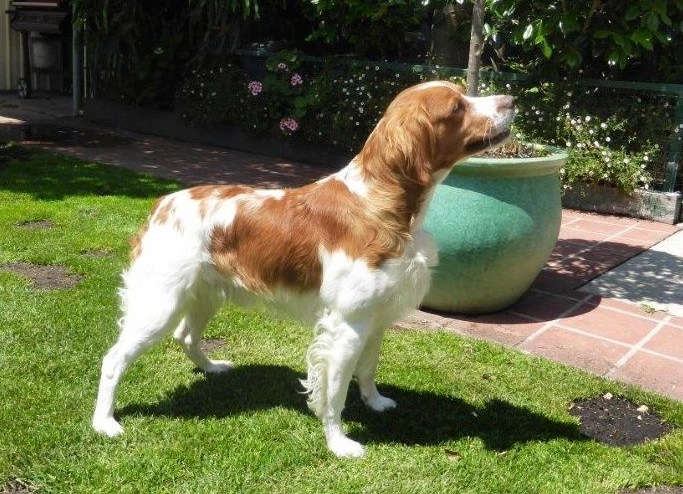 Sire UKC CH.Titan des Deux Moulins
Dam World 07/ CH . Int./Mex.CH Ailia du Buisson de Choisel.
A huge thank you to Goldie Coates of WYNGOLD BRITTANY'S
for your expertise, guidance and knowledge.
Regarding the French Brittany.
Thank you again for trusting us with the very special Guinness
Prelim hip scores good/elbows normal. Clear eye certificate
---
2015
More history in the making
The only Black and white Brittany to be awarded an Australian Champion title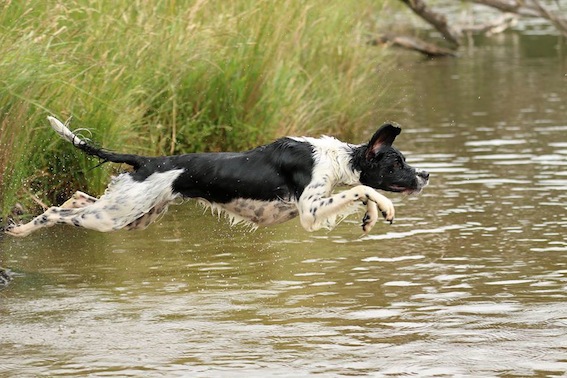 AUS CH Riverreed Shez Tailermaid
(Tae)
Riverreed would like to congratulate Tae on her Australian title.
This beautiful girl is now going into the obedience ring
Tae is owned,loved campaigned and trained by Judith.
We believe she is the first black and white brittany to achieve this title
---
2014

History in the making

The only Australian bred Brittany to travel to France

and be excepted into the French Stud Book

Huge congratulations to Riverreed Black Magic

and her proud owner,trainer Coralie.


Riverreed Black Magic
Coraie has gone home to France and taken her Brittany's with her.
Sierra and Corralie outside the L"Epagnual Breton (Brittany)museum Callac. France.
Beautiful photo of them both at the Notre Dame Cathedral in Paris.
We wish them health and happiness with their new adventures.



---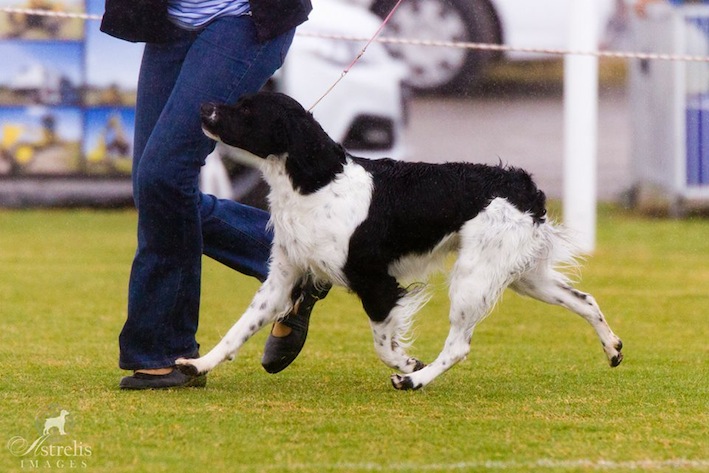 Riverreed Black Tie Affair
Murphy was awarded reserve dog challenge in great company at the Victorian Gundog Ch Show 2014 another first for a Black and White Brittany in Australia.
---






Rivereed Heza Perfect French

Leo's very cute puppy school graduation photo's
---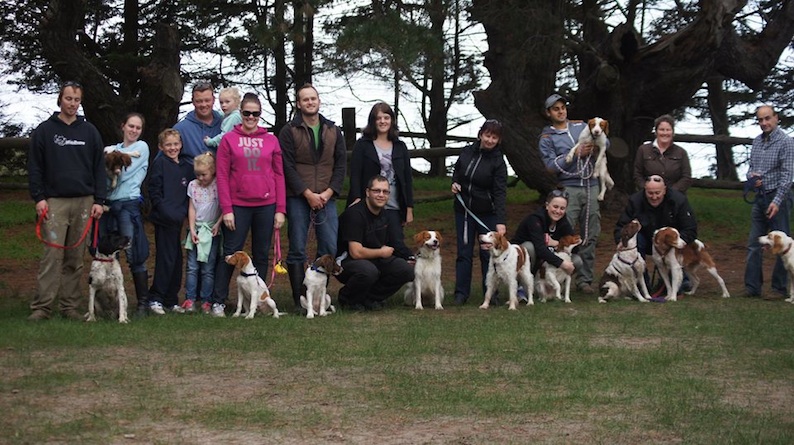 Geelong 2014
Brittany meet up great day had by all lots of fun and some very tired Brittany's by the end of the day
Thank you Matt for organising this special event and for the photo's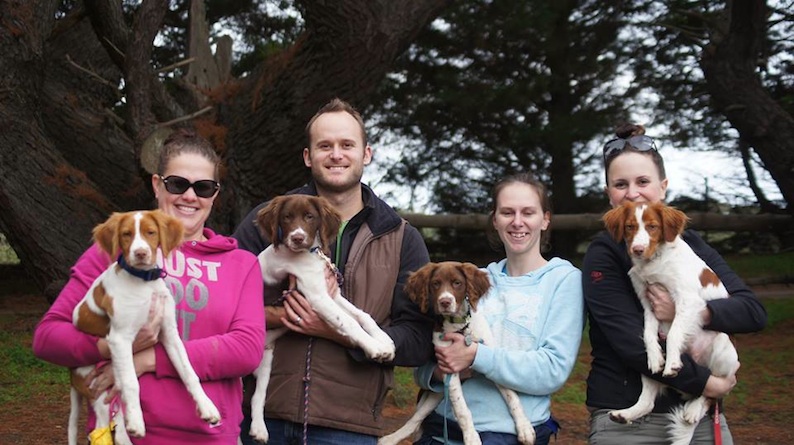 Litter brothers and sisters
How cute are these pups
---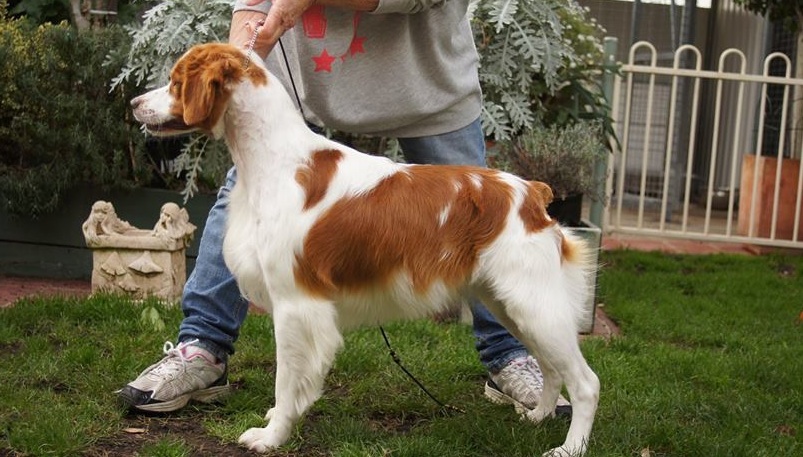 Riverreed Whisky On Ice
(Zeke)
All grown up first show trim.
Owned loved and trained by Matt and Lisa. Will be out in the show ring this year.
Best of Breed at the Geelong CH Show 2014. Well done Zeke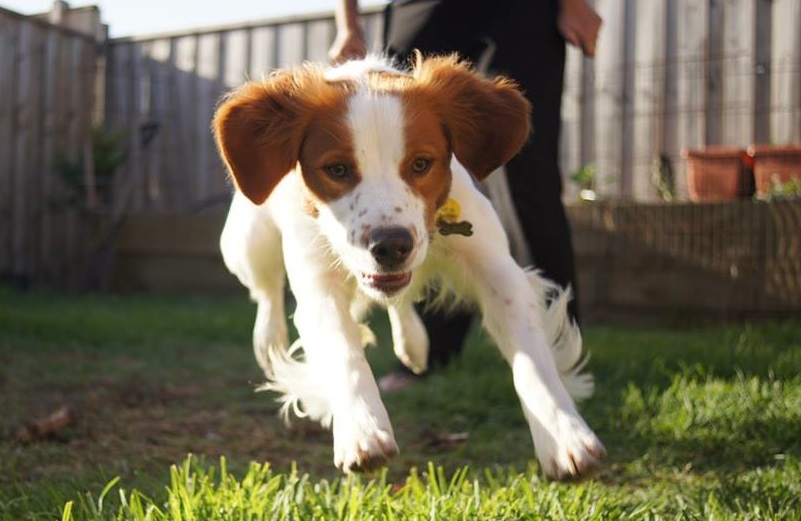 Gorgeous baby Zeke
---
2013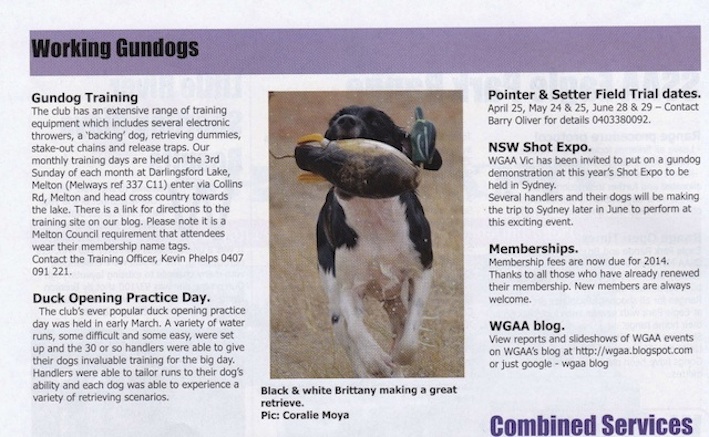 Sierra in the news
Owned loved and trained by Coralie Moya
---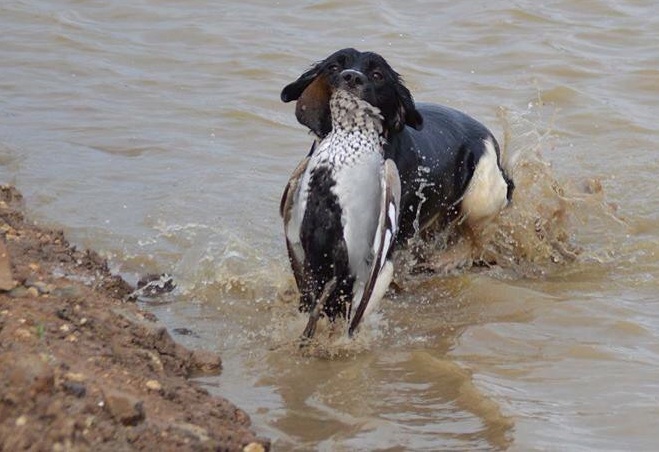 Riverreed Black Magic
(Sierra)
Retrieving her first duck at 12 months old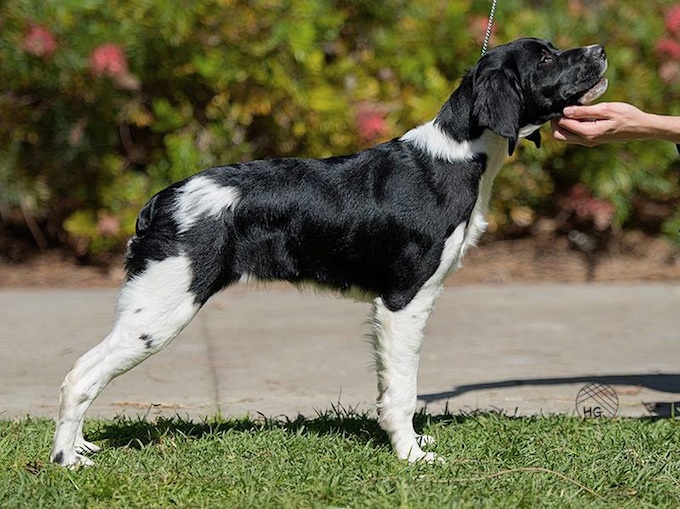 Royal Melbourne show 2013
Sierra winning best puppy of breed
Thank you Corallie for all your training and care, attaining so many firsts in the breed for this
Beautiful natural bob tail girl
---
2013
Brittany championship Show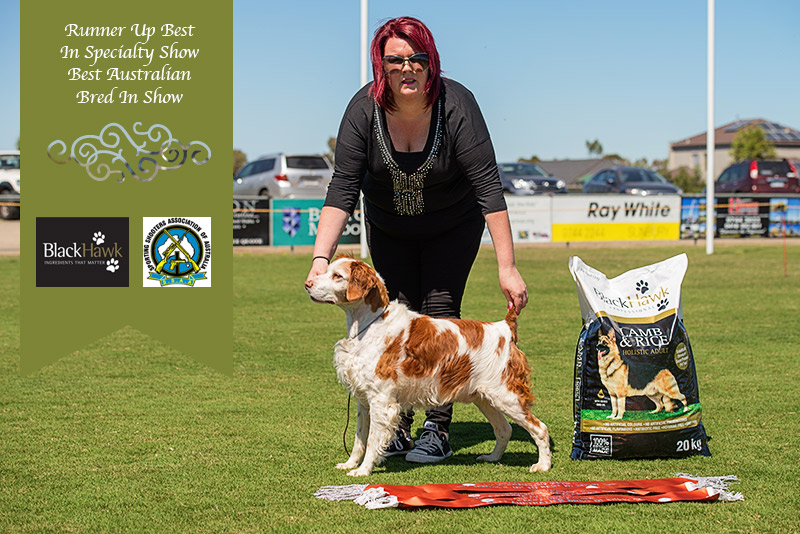 CH Riverreed Bmy Valintine
(Austin)
Runner up in show Reserve in show best Australian bred in show
Huge congratulations to Sharon and Austin
---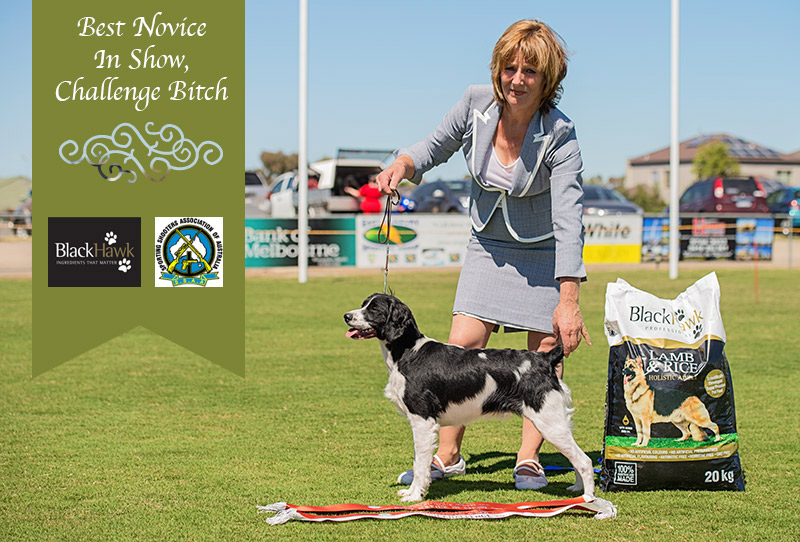 Riverreed Black Ice
(Maggie)
Bitch challenge and best novice in show at 8 months old
---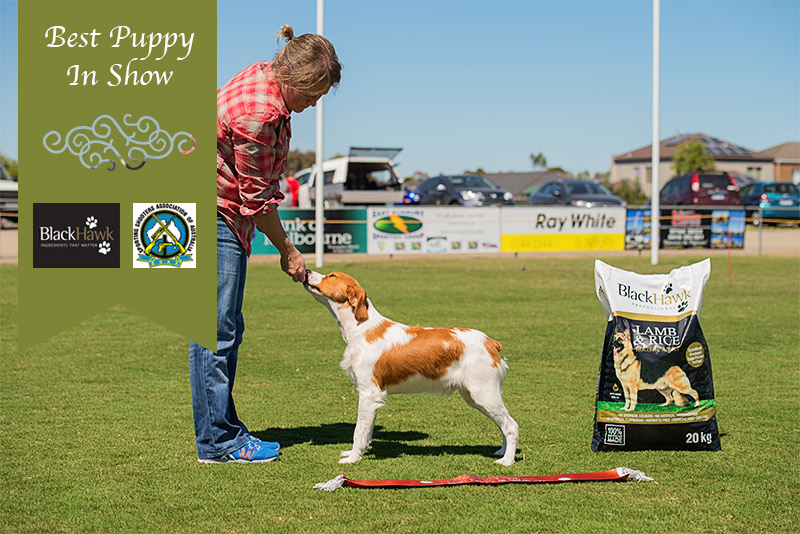 Riverreed Dom Perignon
(Ollie)
Best puppy in show
Owned and adored by Brent and Kate Young
---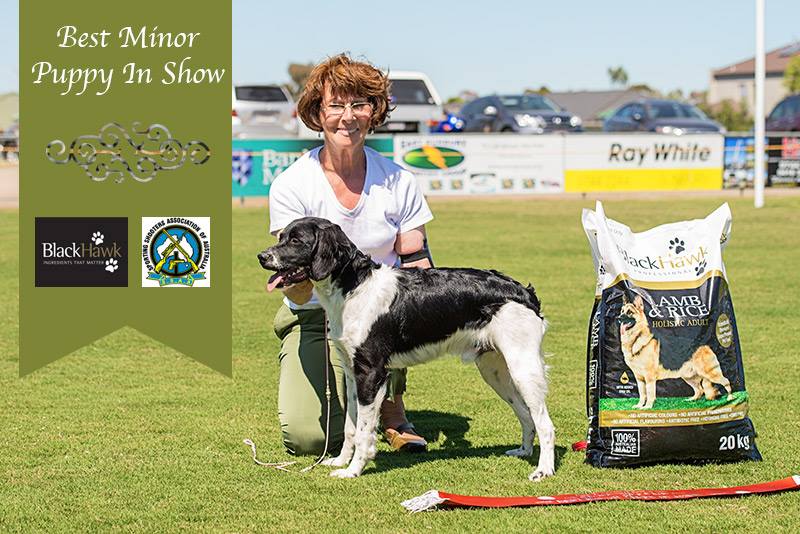 Riverreed Black Tie Affair
Best minor puppy in show
Expertly handled by Cynthia
---
Best Opposite Minor Puppy In Show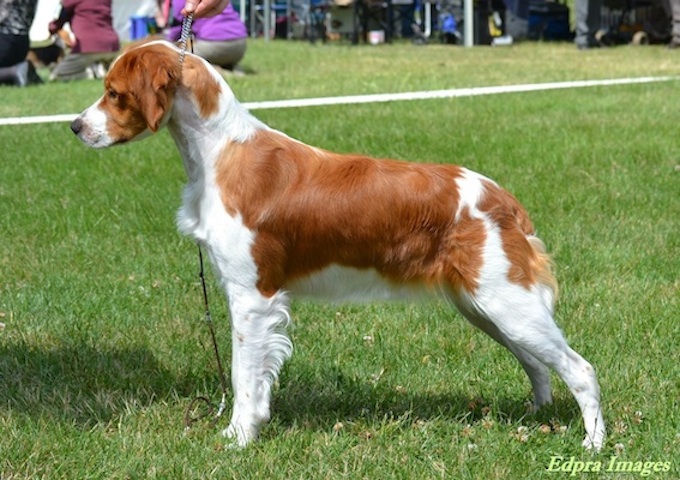 Riverreed French Champagne
Owned loved ans trained by Brittany and Andrew
(Zeke)
With his camouflage gear and custom made dog kennel. 2013 litter
owned and loved by Mathew and Melissa
---

Riverreed Scotch On Ice
Congratulations Titus

Titus
Owned, loved and trained by Grace
---

Riverreed Prince Charming
Haygan making front page news in Singapore



On the beach in Singapore with Bear and Jan

2014
---
Riverreed Prince Charming

(Haygan)





Haygan with his new mum Janice in Singapore
2013


---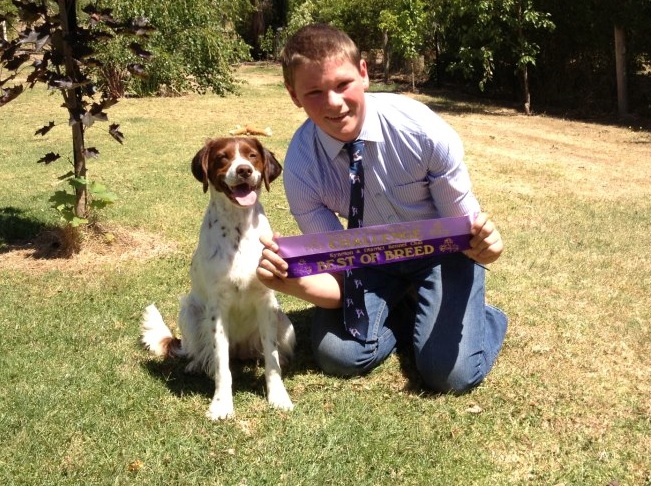 Aus Ch Riverreed Audrey Hepburn
(Kiera)
Now living the life of luxury with the Saddler family
Kiera will be campaigned in the show ring by Jake, who she just love's .
First show, best of breed photo 2013
Way to go Jake and Kiera
---
News 2012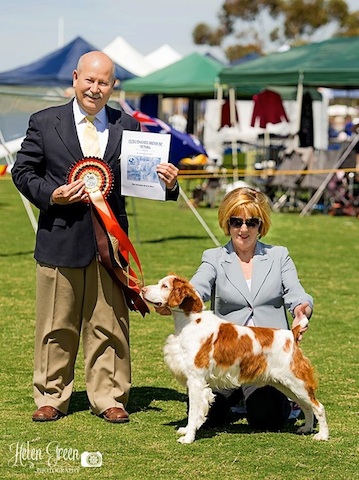 CH RIVERREED BMY VALENTINE
Congratulations to Austin 11 years young winning best AUS Bred in Show
Club Epagnuel Champion Show 2012
Owned and adored by Sharon Corso
Brittbratt Brittanys
---
CH Riverreed Shz A Sensation HTMS C.C.D. CD
We believe Ellie and Cynthia hold the breed record for consecutive wins in the obedience ring. All achieved in 12 months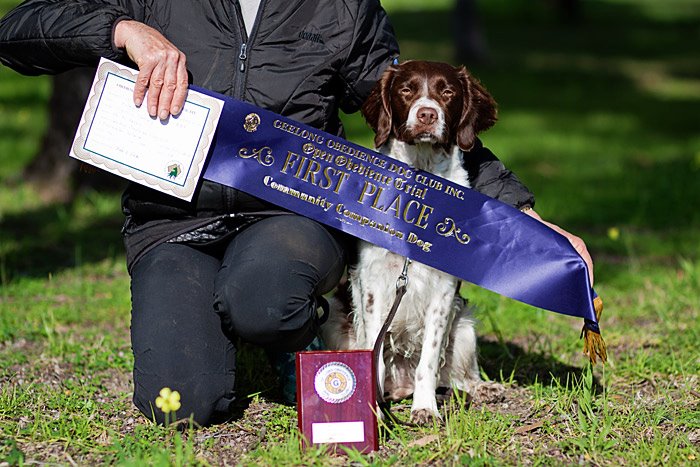 (Ellie)
August 2012
Ellie and Cynthia do it again adding a CD title
Ellie does it again her CD title in 3 consecutive trials
With 2 best in rings
Ellie gained her C.C.D
Today 14-7-12 Ellie gained her C.C.D title in consecutive trials with scores of
95. 97. 98.
And to top it off three best in rings
Great scores, Great Brittany, Great handler.
Congratulations to Cynthia and Ellie
WE are so proud of you both
---
RIVERREED 2012
Starts off the year making more breed history
CH Riverreed Shez A Sensation HTMS
Ellie went to Sydney to compete in the
Dancing With Dogs competion and won a 1st and 3rd in ring.
Making her the first Brittany ever to gain a Title in this sport
Dee Dee daughter of CH Riverreed Frozen In Time
Also competed and won 3rd and 5th in ring making her the second Brittany to achieve this honour
Go Cynthia and the girls we are so proud of you.
---
2012
Jordan and Lily
What a great , emotional day we had presenting Jordan with his wish for a Brittany puppy. He was so suprised and as his mom said it's
A match made in heaven .
They are getting along famously, Lily is doing so well and being a good girl, even pointing her first bird at 3 months old. We will follow this story about a boy and his Brittany. We wish you nothing but the best Jordan and Lily as you start your big adventure together.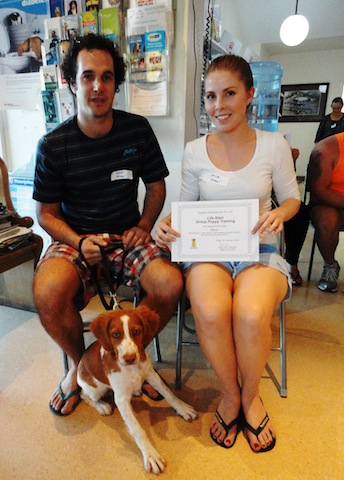 Riverreed Mad Max
Graduating from puppy school
(Maxi)
Proud Mom and Dad.
Mia and Chris
2012
---
What a year 2011 has been
Rockfire Devil In Disguise UD
daughter of
CH Riverreed Frozin In Time (AI)
Willhe
Making breed history
Sunday the 28 August Dee Dee passed her last leg and gained her
U D title making her the only Brittany ever to have achieved this milestone
in Australia
Huge congratulations to Cynthia and DEE DEE
---
Aus Dual CH (T) Riverreed Frozn Impact (AI)
Making breed history
The only male Brittany ever to achieve a Dual CHampion award
in Australia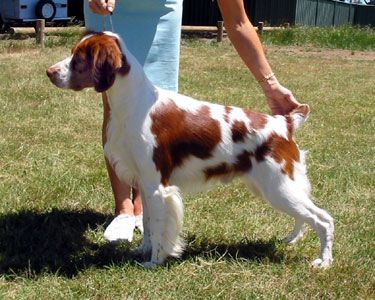 Aus Dual CH (T) Riverreed Frozn Impact (AI)
Riverreeds first Dual Champion
Keifer
We are very excited huge congratulations to Cynthia and Keifer
10-7-2011 Keifer passed track 7 at the Tracking Club Of Victoria
Judge was Kim Holden
Making Keifer the first male Brittany to ever earn a Dual CH title in Australia
We are so proud of you thankyou Cynthia for all your hours of training and devotion
given to your special boy
---

CH Riverreed Shez A Sensation
owned and campaigned by Cynthia Toohey
Congratulations Allie and Cynthia on gaining your championship title
---