---
NEWS
2013
New Import
Epagnuel Breton
The French Brittany
Guinness de Wyngold
(Guinness)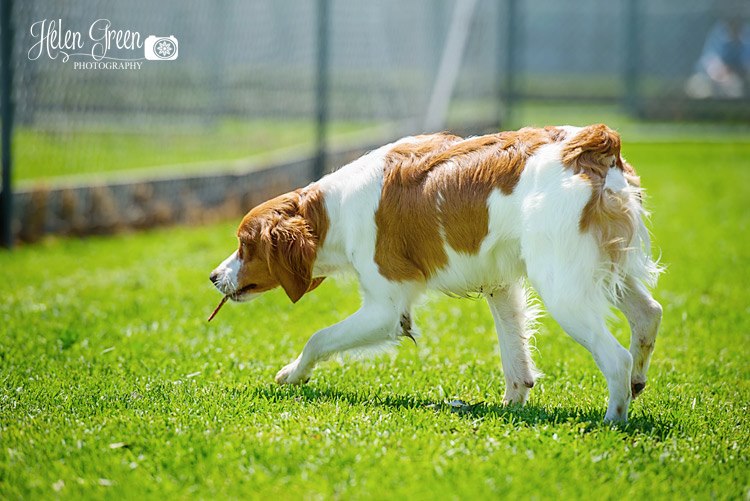 Sire UKC CH.Titan des Deux Moulins
Dam World 07/ CH . Int./Mex.CH Ailia du Buisson de Choisel.
A huge thank you to Goldie Coates of WYNGOLD BRITTANY'S
for your expertise, guidance and knowledge.
Regarding the French Brittany.
Thank you again for trusting us with the very special Guinness
Prelim hip scores good/elbows normal. Clear eye certificate
---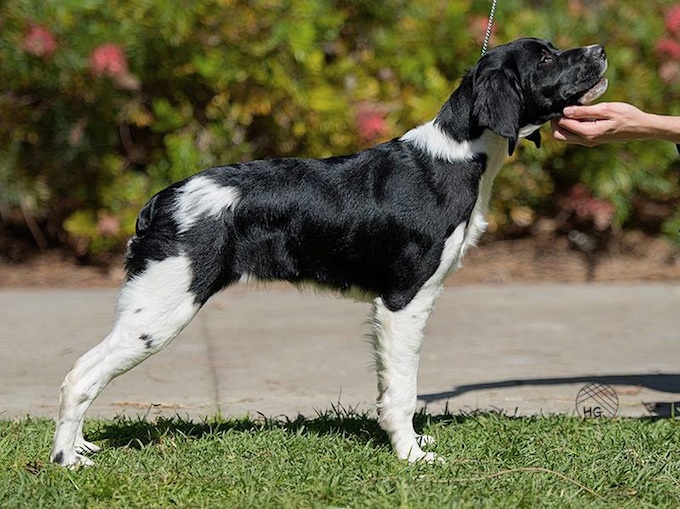 Riverreed Black Magic
(Sierra)
Competing at her first royal show 2013
Best Baby Puppy of breed
Owned and adored by Coralie
---
Riverreed Whisky On Ice
(Zeke)
With his camouflage gear and custom made dog kennel. 2013 litter
owned and loved by Mathew and Melissa
---

Riverreed Scotch On Ice
Congratulations Titus

Titus
Owned, loved and trained by Grace
---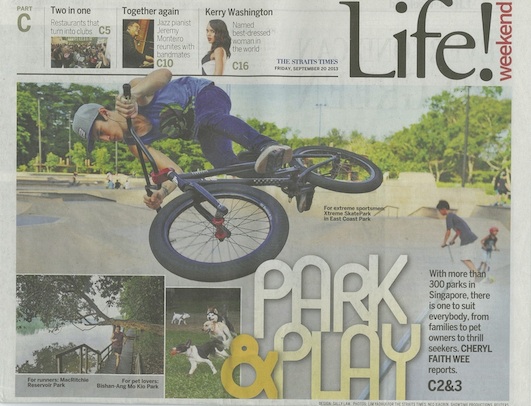 Riverreed Prince Charming
(Haygan)
Now famous making the front page of this Singapore newspaper
Riverreed Prince Charming

(Haygan





Haygan with his new mum Janice in Singapore
2013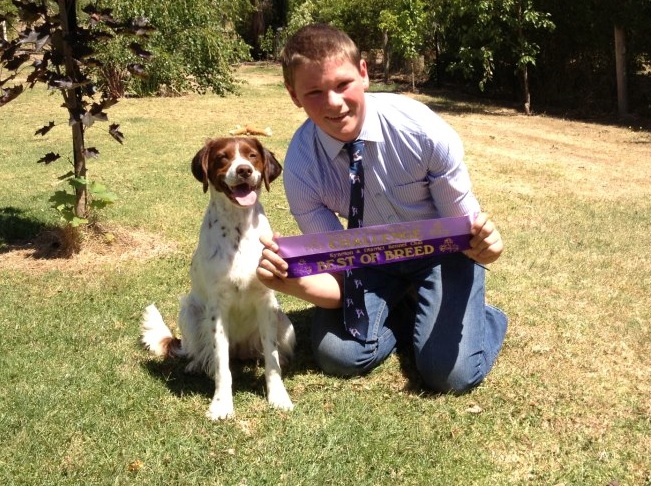 Aus Ch Riverreed Audrey Hepburn
(Kiera)
Now living the life of luxury with the Saddler family
Kiera will be campaigned in the show ring by Jake, who she just love's .
First show, best of breed photo 2013
Way to go Jake and Kiera
---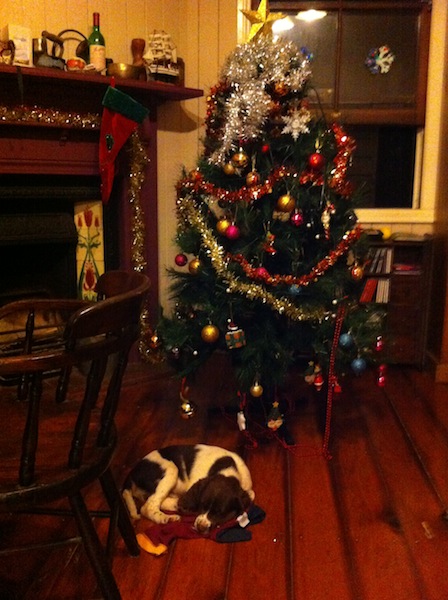 Lucy waiting for Santa to fill her christmas stocking 2012
---
News 2012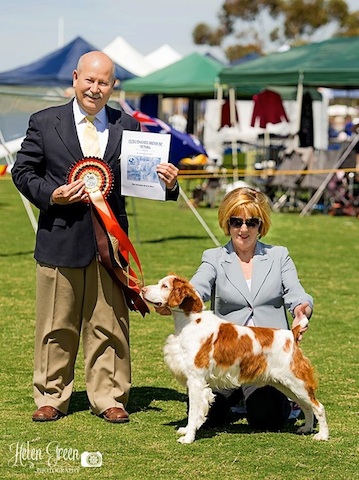 CH RIVERREED BMY VALENTINE
Congratulations to Austin 11 years young winning best AUS Bred in Show
Club Epagnuel Champion Show 2012
Owned and adored by Sharon Corso
Brittbratt Brittanys
---
CH Riverreed Shz A Sensation HTMS C.C.D. CD
We believe Ellie and Cynthia hold the breed record
for consecutive wins in the obedience ring
All this achieved in within 12 months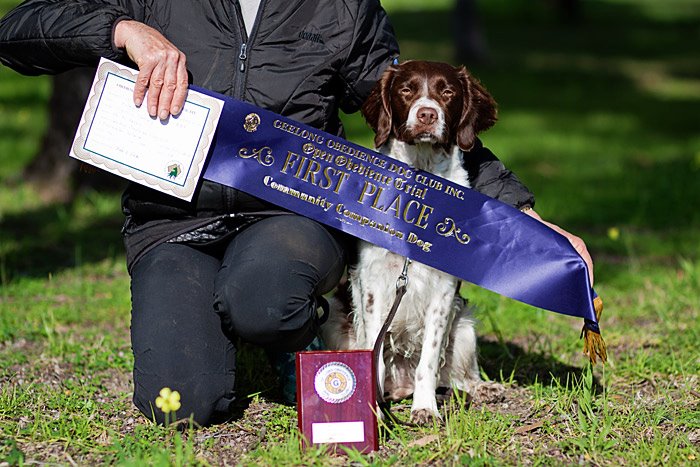 (Ellie)
August 2012
Ellie and Cynthia do it again adding a CD title
Ellie does it again her CD title in 3 consecutive trials
With 2 best in rings
Ellie gained her C.C.D
Today 14-7-12 Ellie gained her C.C.D title in consecutive trials with scores of
95. 97. 98.
And to top it off three best in rings
Great scores, Great Brittany, Great handler.
Congratulations to Cynthia and Ellie
WE are so proud of you both
---
RIVERREED 2012
Starts off the year making more breed history
CH Riverreed Shez A Sensation HTMS
Ellie went to Sydney to compete in the
Dancing With Dogs competion and won a 1st and 3rd in ring.
Making her the first Brittany ever to gain a Title in this sport
Dee Dee daughter of CH Riverreed Frozen In Time
Also competed and won 3rd and 5th in ring making her the second Brittany to achieve this honour
Go Cynthia and the girls we are so proud of you.
---
2012
Jordan and Lily
What a great , emotional day we had presenting Jordan with his wish for a Brittany puppy. He was so suprised and as his mom said it's
A match made in heaven .
They are getting along famously, Lily is doing so well and being a good girl, even pointing her first bird at 3 months old. We will follow this story about a boy and his Brittany. We wish you nothing but the best Jordan and Lily as you start your big adventure together.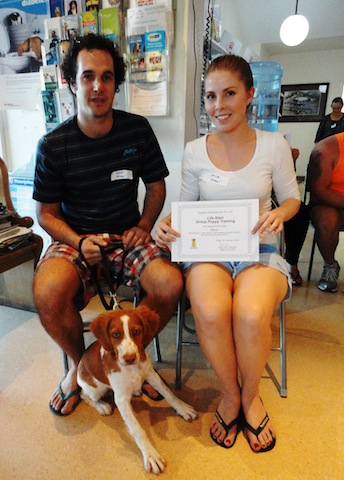 Riverreed Mad Max
Graduating from puppy school
(Maxi)
Proud Mom and Dad.
Mia and Chris
2012
---
What a year 2011 has been
Rockfire Devil In Disguise UD
daughter of
CH Riverreed Frozin In Time (AI)
Willhe
Making breed history
Sunday the 28 August Dee Dee passed her last leg and gained her
U D title making her the only Brittany ever to have achieved this milestone
in Australia
Huge congratulations to Cynthia and DEE DEE
---
Aus Dual CH (T) Riverreed Frozn Impact (AI)
Making breed history
The only male Brittany ever to achieve a Dual CHampion award
in Australia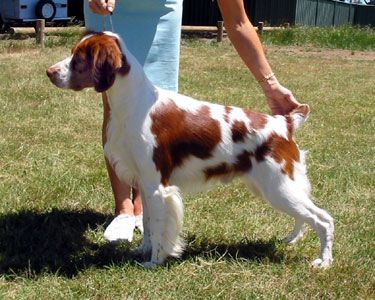 Aus Dual CH (T) Riverreed Frozn Impact (AI)
Riverreeds first Dual Champion
Keifer
We are very excited huge congratulations to Cynthia and Keifer
10-7-2011 Keifer passed track 7 at the Tracking Club Of Victoria
Judge was Kim Holden
Making Keifer the first male Brittany to ever earn a Dual CH title in Australia
We are so proud of you thankyou Cynthia for all your hours of training and devotion
given to your special boy
---

CH Riverreed Shez A Sensation
owned and campaigned by Cynthia Toohey
Congratulations Allie and Cynthia on gaining your championship title
---
Riverreed Classic Whisky
(Buddy)
Congratulations Buddy and Claire on your graduation from puppy school
Come on Claire off to obedience class,I know you can do it.
Owned and loved by the Hennessy family, trained by Claire
---