Presents
The first Brittany ever in Australia to achieve this award
Dual Champion (Obedience) Riverreed Shez A Sensation HTMS.
ELLIE
Huge congratulations to Ellie and Cynthia on this fabulous achievement
Way to go girls
| | |
| --- | --- |
| Cynthia and Ellie puppy of breed Melbourne Royal 2010 | |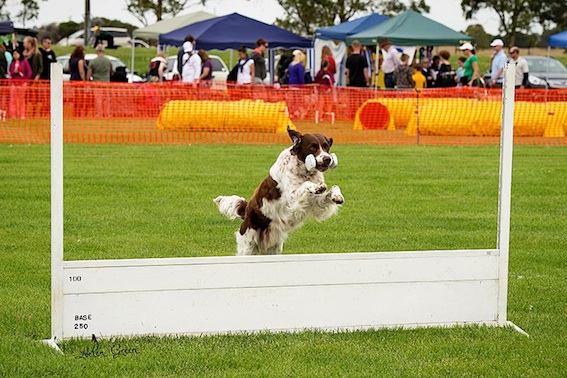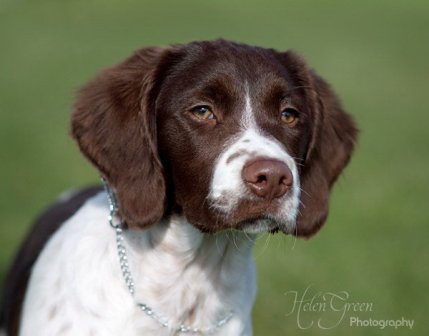 ELLIE
Stunning head piece,beautiful expression
---

Hip scores 9
Elbow scores 1-0
Eyes Clear 2013
Achievements:
Ellie is making her mark in the showring ,with multi best of breeds over older bitches.
Her first year in the ring 2010
Best Puppy of breed Melbourne Royal Show
Best puppy in show Brittany Speciality Champ Show
Best puppy in show Brittany Speciality Open Show
Ellie is almost ready to trial in the obedience ring, all this under 12 months old Allie is exceeding all expectations.
RIVERREED SETTING THE RECORDS
Ellie went to Sydney to compete in Dancing With Dogs trial
Winning 1st and 3rd in ring for her first title.making her the first Brittany
EVER to gain a title in this sport
Allie is owned,loved,shown and trained by Cynthia Toohey
Pedigree

Parents
GrandParents
GreatGrandParents
SIRE

AUSTRALIAN GRAND CH TENDAYI MARK MY WORDS

CH ROCKLAN JORDEAN NIGHT HAWK IMP USA

AM CH JORDEAN UP ALL NIGHT
AM CH JORDEAN NOT FORGOTTEN

CH BREEZEWATERS COME FLY WITH ME

IMP USA

AM CH TRIUMPHANTS ENCORE JH
AM CH BREEZEWATERS LOKI MOTION JH

DAM

CH RIVERMIST MZ.LA.DI.DA

CH ALARS STEEL SHADOW IMP USA
KB'S SHADOW DANCER FC
AM CH SOVEREIGNS ALAR SKY ROCKET
CH WAMEIKA DENTELLE CD.ADX.JDX.GD.SPD.
CH TOBENLEE JACK FLASH
CH WAMEIKA BIJOU
Outstanding brittanys in Allie's pedigree
Allie is following in her father (Logan) Footsteps.
BISS. RUBISS.

AUS Grand Champion Tendayi Mark My Words (Logan)

Multi best in group,class in group,class in show

Runner up in show VIC Gundog Championship show 2008 (408 entries)

RUBISS (OP) AUS Champion

Breezwater Come Fly With Me

(FLY)

imported USA

Only bred from once she produced 2 record breaking dogs

Grand CH Tendayi Mark My Words

AUS Ch Tendayi To Die For
---
Ellie
Training for the obedience ring.
Ellie

heeling

Ellie

about turn

Allie

Drop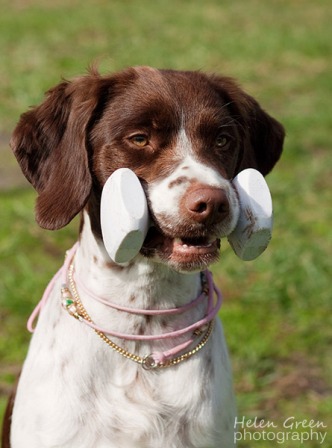 Ellie she's no dumbbell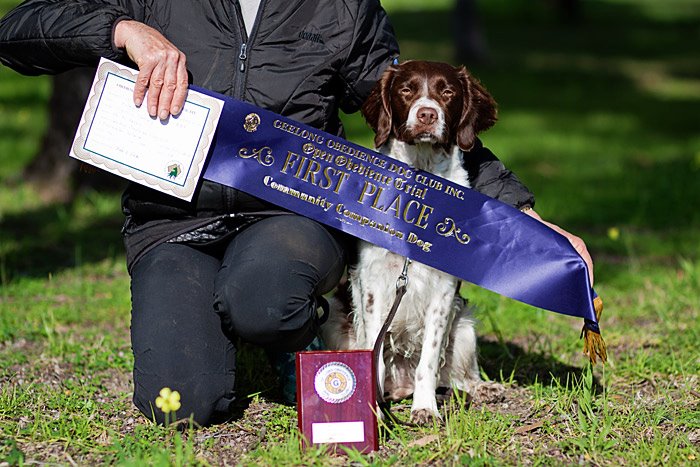 14-7-12
HUGE CONGRATULATIONS
Today Ellie gained her C.C.D title in consecutive trials with scores of 95-97-98
THREE BEST IN RINGS
We are so proud of you both
Ellie the Super Brittany
Ellie now has her CD title to add to her name
All won in 6 consecutive trials with 5 best in rings
You girls are just the best